Dementia and Alzheimer's Patients
Towards the end of life, art and creativity offer a path to open up the windows to people's emotional interiors. In fact, Miller and Hou (2004) observe that focusing on the artistic strengths of patients with progressive aphasia caused by degenerative dementias, has a positive therapeutic value as it encourages patients to pursue an activity in which they have a potential and can improve. Furthermore, research has shown (Kinney and Rentz, 2005) that persons in the early and middle stages of Alzeimer's disease who took part in a visual art activity that encouraged self-expression, demonstrated significantly more interest, sustained attention, pleasure and increased self-esteem.
Anne Basting wrote "where rational language and factual memory have failed people with dementia, the arts offer an avenue for communication and connection with caregivers, loved ones, and the greater world".
To go further, when designing spaces for residents suffering from dementia or Alzheimer's Disease, there are special considerations. It is vital to create a calm environment free of excess noise and stressors; to monitor personal comfort; and to simplify tasks and routines.
We offer a holistic approach to care for this specialized population with programming that enhances their hospital stay, and through environmental design to lessen their stress. To achieve this, we work with designers and share our knowledge of current evidence based design, to create spaces and programmes that encourage patient compliance, a more relaxed environment and staff.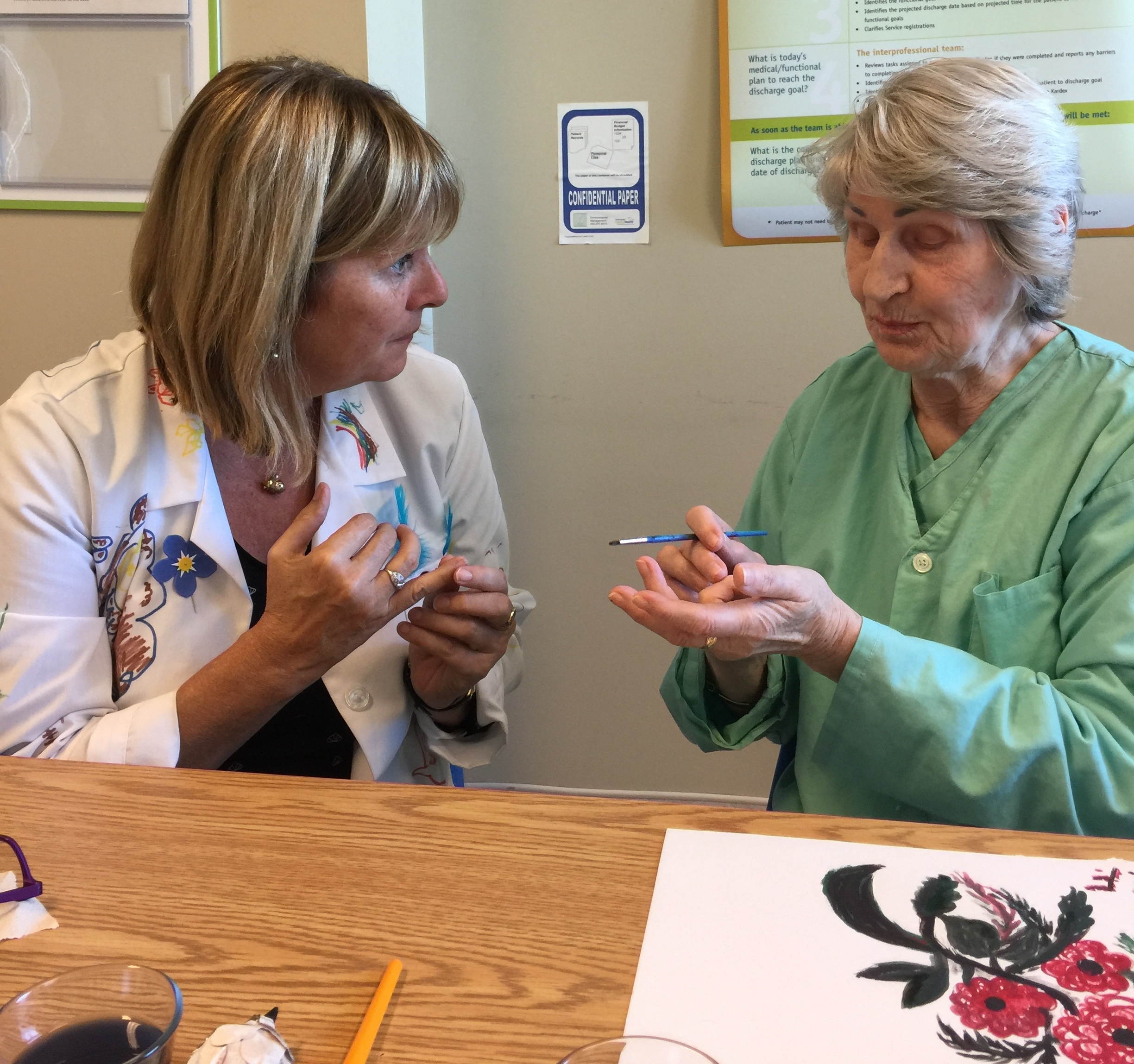 Arts programs for Dementia patients
Effective therapeutic benefits – patients participating in an art program experience clinically significant benefits; showing increased calmness, sociability, and self-esteem. It has been shown that patients who have severe behavioural and psychological symptoms of dementia are able to engage sustained attention in painting for over an hour, and engage in social conversations. The art provided one patient a way to express herself, which helped others to see her strength and beauty.
No side effects and harm – while antipsychotics and physical restraints give modest or no effects and can cause harm in many patients with dementia, art programs clearly can provide therapeutic effects with no adverse side effects. Patients are more likely to fall after antipsychotics, but they are more alert and engaged after the art program.
Creative expression helps improving health and well-being – it was obvious that the art program filled the room with human warmth and positive connection. Some patients just love to come in to enjoy the social atmosphere. Communication was the key in the art program.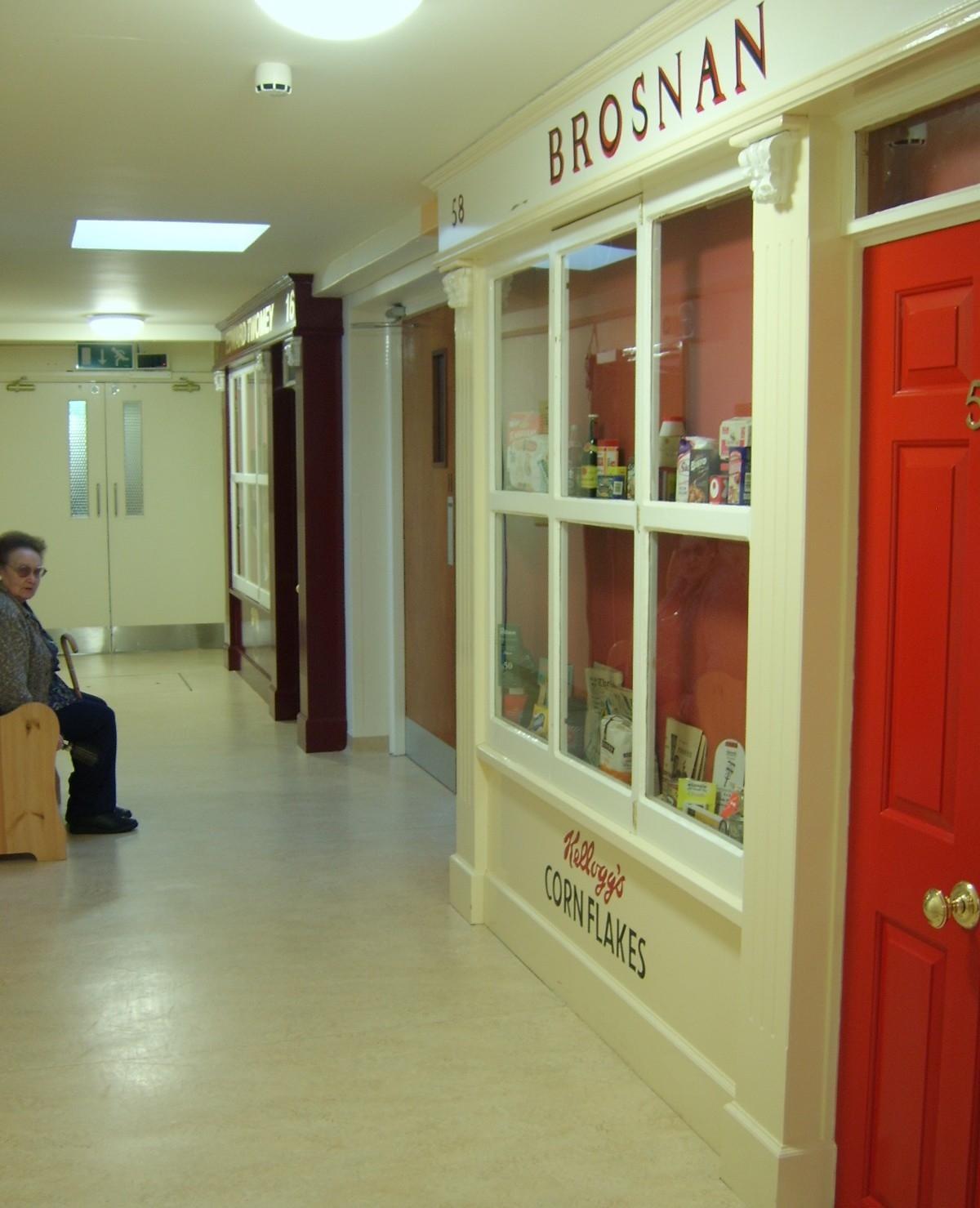 Saoirse Ward
Saoirse is the Irish and Scottish name meaning freedom, and this unit was transformed through evidence-based design. Shop fronts from the nearby town were recreated along the hallways between the rooms to evoke memories for patients with dementia diseases. Carol McCann headed up the environmental transformations.
Country Kitchen
This space was used to allow residents an opportunity to continue the routines that they would have had at home prior to their Alzheimers' diagnosis. Nursing staff were trained in new ways of caring, risk management and infection control lowered their protocols to enable women to use a needle and thread, boil water to make tea, and wash dishes.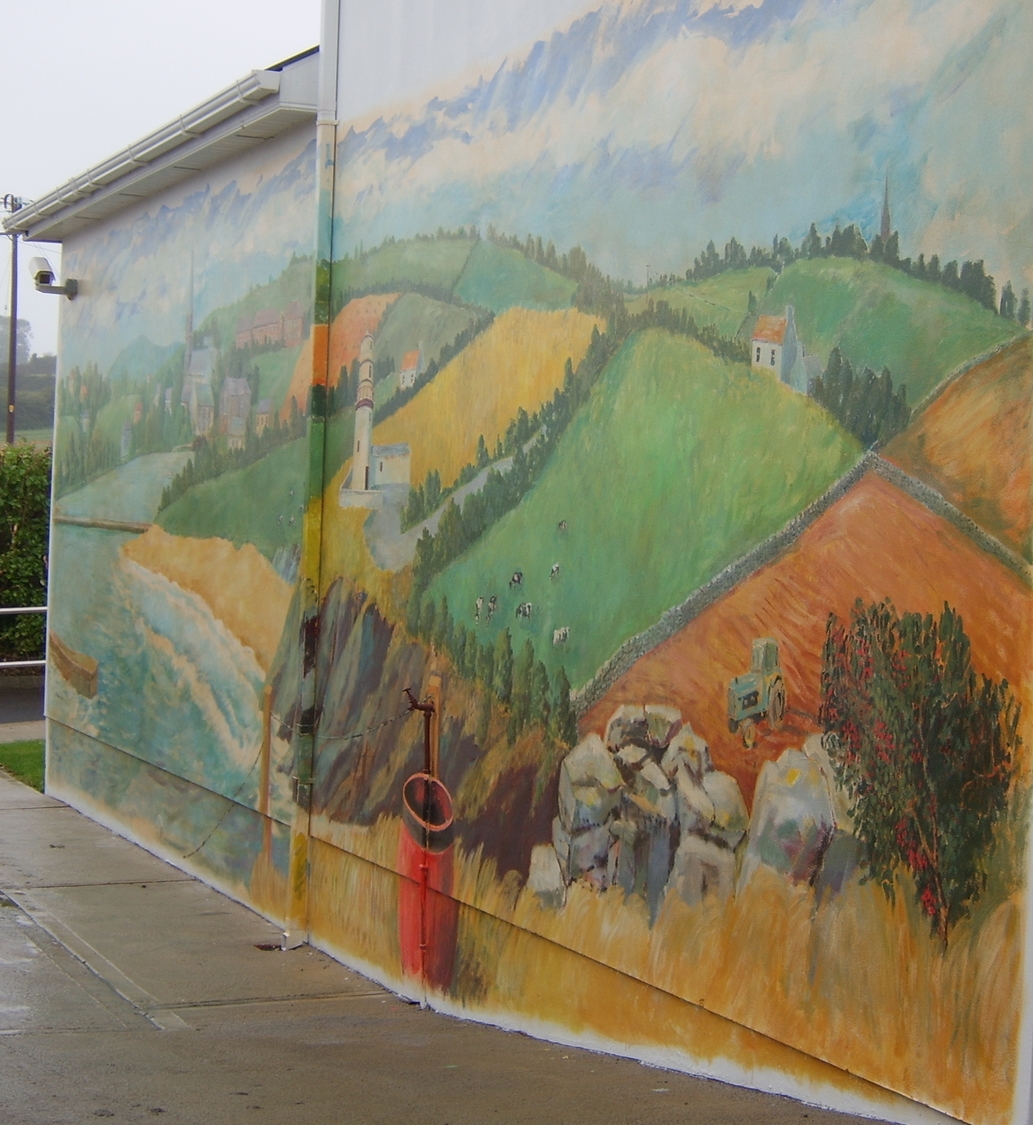 Mural
An exterior mural was commissioned to reflect the surrounding countryside as the edition of a grey concrete wall gave the impression of a grey day resulting in residents' feelings of isolation
Sitting area
This had been a eight bed space. The view from the french doors had been a grey wall due to building expansion. The residents stopped spending time in this room as they said the day was grey - a result of the concrete. We commissioned a mural to shift the residents' perception of the space resulting in the room being used once more.
Group Programs for Seniors