Arts Aid
Where people survive displacement, marginalization, conflict, war or a natural disaster it is important for them to re/create community with one another. Using J.P Lederach's notion of peace being like a web of connections, we design arts-infused community healing projects that bring processes, ritual and celebrations to begin conversations.
We work with artists throughout the world and our work is cultural sensitive and transformative at a community level.
Contact us for details.
Post tsunami
This piece was created during a workshop I ran in the Jaffna Peninsula, Sri Lanka after the 2004 tsunami. The twenty Tamil women who participated in the workshop had all been witness to and survived the civil war and the tsunami. The town in which they lived had lost 5,000 of the 25,000 people to the wave. There were no babies as they had also been swept out to sea. This image was used to raise funds to begin a sewing cooperative so the women could support their families as many of the men had died and they had to relocate away from the ocean.
Healing at the Seaside
Early in 2005 I travelled to Sri Lanka with a group of Irish nurses to work behind Tamil Tiger lines, with survivors of the tsunami. It was felt by the local people, who were mostly fisher folk, that they had been betrayed by "Mother Ocean". This music program served to reconnect them - many of whom had lost family members, neighbours and friends to the waves - to the source of their livelihood.
Participation in a arts programs can serve as a tool to begin to heal a community after a natural disaster or conflict as the people become engaged in a collective and fun experience.
Sri Lanka
The schools had been destroyed by the tsunami and, in an attempt be remind survivors of their lives beyond their loss, we ran a series of visual art programs that led to rituals and processions that served to heal the community. The program also acted as a way to identify those youth in greatest distress so the local support team could offer them much needed counsel.
Displaced Women
These women had all been displaced by the Kony insurgency in the North of Uganda. They were relocated just outside of Kampala on the site of a prison. We worked together to discuss their ways of making peace and re-storying their personal narratives.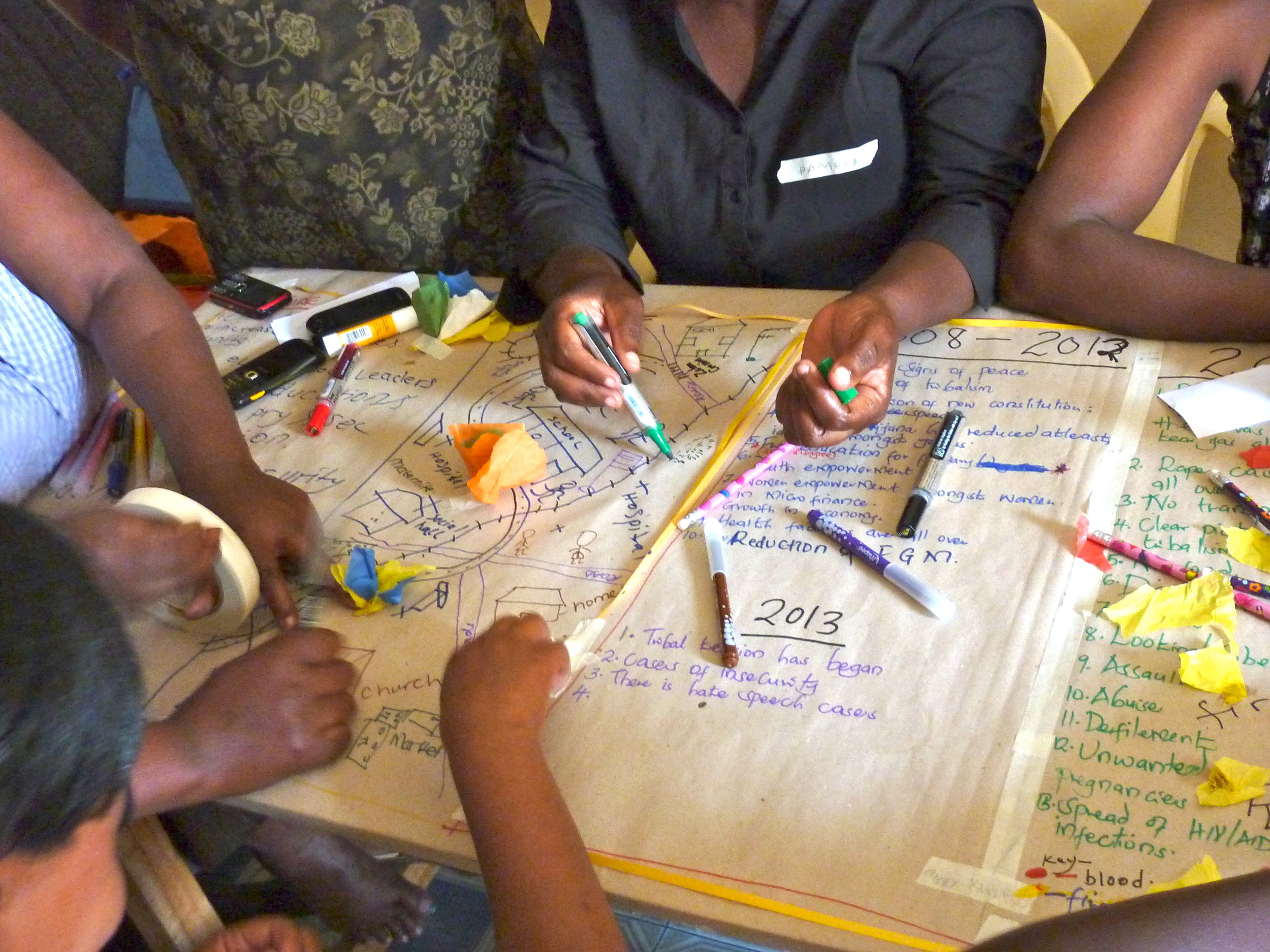 Inter-tribal Peacebuilding
In 2013 the slums of Kibera, Nairobi, I ran arts-infused workshops. During the day pictured here eight women from eight tribes - all displaced victims of violence - worked together with an aim to build peace within their new communities. Through the use of visual art, community mapping and sharing their personal stories of their experience of post-election violence, they found connections with one another and went on to promote peace in the tribal communities and families.
Happiest Day
Children who survive trauma and displacement need to be reminded of fun, and a shared art experience is one way to do that. This image illustrates a portion of the 150 children with whom I worked during a one day workshop in a refugee camp in the northern tip of the Jaffna peninsula, Sri Lanka